Brevo | Tailored Email Marketing & More for Businesses of All Sizes
Brevo provides a range of tools that are designed to simplify and optimize email marketing campaigns. This makes it easier for businesses of all sizes to connect with their audience and increase engagement. The email marketing and automation platform was previously known as SendinBlue. The rebranding to Brevo marks a shift in the company's services and a stronger focus on helping businesses succeed with their email marketing efforts.
No credit card needed to get started
In this Brevo review, we will discuss the history of Brevo, its features, pricing, and the pros and cons of using it.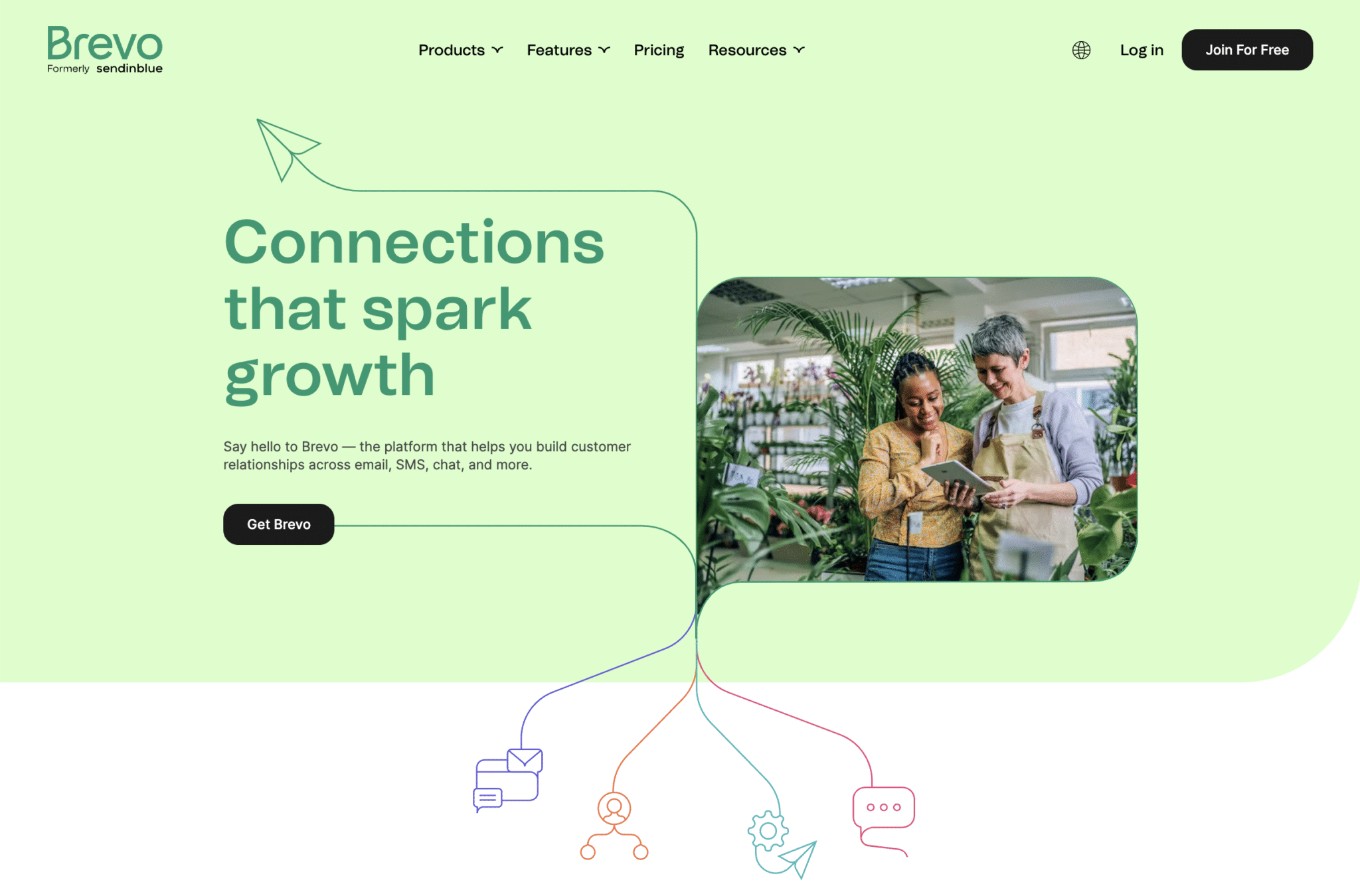 What is Brevo?
Brevo is a platform that enables businesses to create, manage, and optimize their email marketing campaigns with ease.
It was formerly known as SendinBlue but has now evolved into a comprehensive solution for businesses of various sizes, ranging from startups to established enterprises.
The company's primary aim is to help businesses create and deliver engaging and personalized email content to their target audiences.
This is made possible through a wide range of tools and features that simplify the entire email marketing process, from designing eye-catching emails to automating responses and tracking the performance of campaigns.
Brevo's core functionality includes email campaign management, marketing automation, and detailed analytics.
Users can design attractive email templates, segment their audience for more targeted communication, set up automated workflows to nurture leads and gain valuable insights into their campaign performance through in-depth analytics.
With Brevo, businesses can enhance customer engagement, drive sales, and build lasting relationships with their subscribers.
About Brevo
Brevo is an email marketing tool that was initially founded under the name Sendinblue back in 2012. Essentially this can also be considered a Sendinblue review.
The founder's vision was to create a platform that would provide marketing tools that are accessible to all businesses, regardless of their size.
Brevo provides a wide range of services to assist businesses in reaching out to their customers. They offer more than just email marketing. They also offer WhatsApp, SMS, and chat functions to aid you in connecting with your target audience.
They also have marketing automation, which enables you to schedule your emails to be sent out at a specific time. This feature helps ensure that your message reaches your audience when they are most likely to read it.
Why do people use Brevo?
Businesses and marketers choose Brevo for its numerous advantages catering to diverse email marketing needs.
Simplicity
First and foremost, Brevo simplifies the process of email marketing. It provides an intuitive and user-friendly interface, making it accessible to both beginners and experienced marketers.
The drag-and-drop email builder, pre-designed templates, and workflow automation features ensure that creating and managing email campaigns is a straightforward and efficient process.
Affordability
Another key attraction of Brevo is its affordability. The platform offers competitive pricing plans that accommodate businesses of varying sizes and budgets.
The pricing plans are designed to meet the needs and budget of each individual business.
Businesses can choose from a variety of pricing plans that cater to their specific needs.
Brevo is one of the only companies to offer transactional pricing, which is more like pay-as-you-go.
This accessibility is especially appealing to small and medium-sized enterprises looking for cost-effective solutions without sacrificing functionality.
Automation
Moreover, Brevo excels in automation capabilities. It enables users to set up automated email workflows, segment their subscriber lists, and personalize content, which helps increase engagement and conversion rates.
This automation not only saves time but also ensures that emails are sent at optimal times and to the most relevant recipients.
Analytics
In addition, Brevo provides comprehensive analytics and reporting tools, allowing users to track the performance of their email campaigns.
This data-driven approach helps in making informed decisions, refining strategies, and optimizing future campaigns for better results.
Deliverability
Lastly, Brevo is known for its deliverability rates and compliance with email marketing regulations. It employs stringent anti-spam measures to ensure that emails reach their intended recipients' inboxes, thereby enhancing the effectiveness of campaigns.
In summary, people use Brevo for its user-friendliness, affordability, automation capabilities, analytics, and email deliverability, making it a valuable choice for businesses and marketers seeking to maximize their email marketing efforts.
Features of Brevo
Brevo is an email marketing and automation platform that offers a comprehensive toolkit for successful email campaigns. Here, we highlight some of its key features :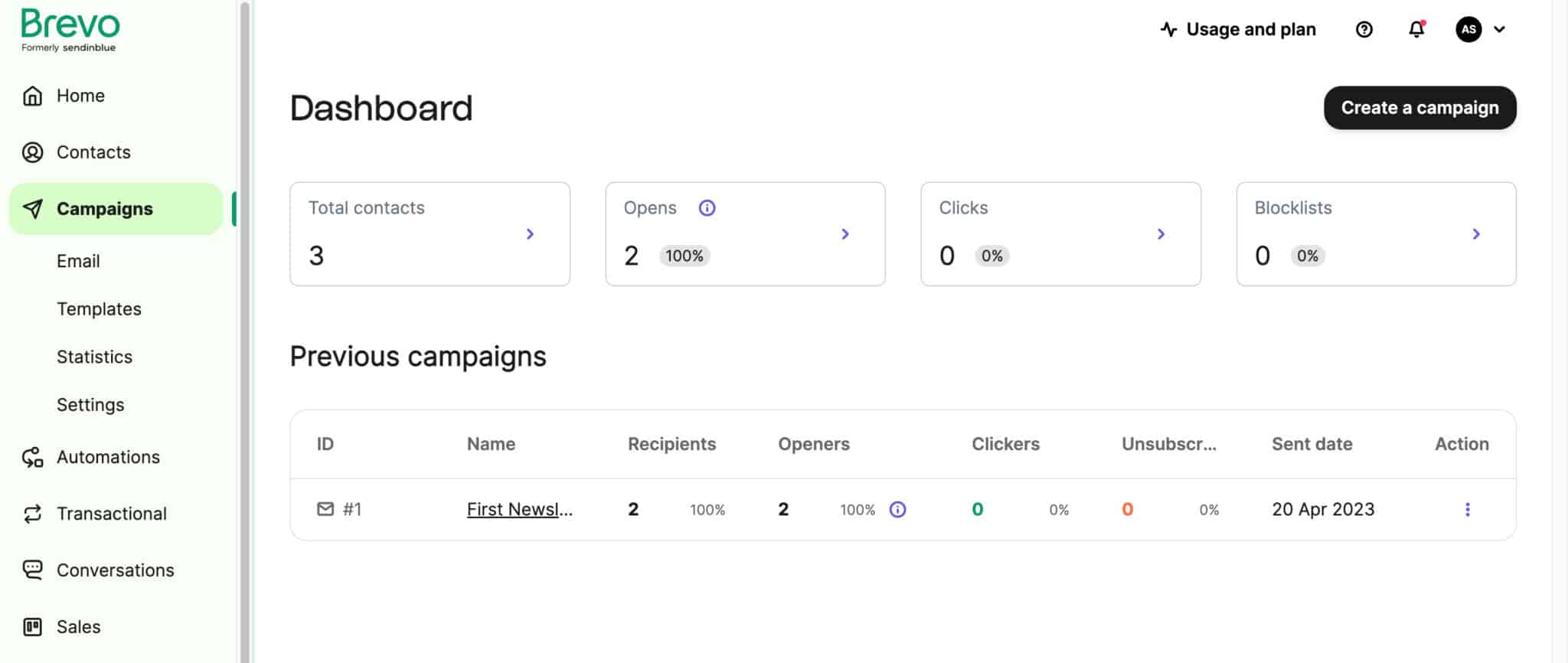 Email Campaign Management
Drag-and-Drop Editor. Brevo's intuitive email builder allows users to create visually appealing email templates without the need for coding skills.
Template Library. A collection of pre-designed templates to kickstart your campaigns, saving time and effort.
Personalization. The platform enables dynamic content personalization, ensuring each recipient receives tailored messages.
A/B Testing. Test different subject lines and content, and send times to identify what resonates most with your audience.
Marketing Automation
Workflow Automation. Easily create automated workflows with triggers, actions, and conditions to nurture leads, onboard customers, or re-engage inactive subscribers.
Segmentation. Divide your contact list into segments based on various criteria, ensuring highly targeted communication.
Behavioral Tracking. Monitor how recipients interact with your emails and use this data to trigger automated responses.
Analytics and Reporting
Real-Time Tracking. Stay updated with real-time data on email opens, click-through rates, and other engagement metrics.
Detailed Reports. Dive into comprehensive reports that provide insights into campaign performance, enabling data-driven decisions.
ROI Tracking. Calculate the return on investment for each campaign to assess its effectiveness.
Transactional Emails
Transactional emails are a type of email communication that is triggered by specific actions or events, typically related to individual transactions, interactions, or account-based activities.
Unlike promotional emails, which are generally used for marketing and advertising purposes, transactional emails serve to provide critical and personalized information to the recipient.
These emails are usually highly relevant and expected by the recipient, as they pertain to specific actions they've taken or information they need.
Transactional Email API. Brevo offers a reliable and efficient API for sending transactional emails, such as order confirmations and password resets.
SMTP Relay. Users can ensure that critical transactional emails reach recipients' inboxes without fail.
Common examples of transactional emails include:
Order Confirmation. Sent after a customer completes a purchase on an e-commerce website, confirming the details of the order, payment, and shipping information.
Shipping and Delivery Notifications. These emails inform the recipient about the status of their package, including tracking information and expected delivery dates.
Password Reset or Account Verification. When a user forgets their password or needs to verify their email address during the account creation process, transactional emails are used to facilitate these actions.
Receipts and Invoices. Businesses send transactional emails with receipts and invoices to confirm payments or transactions, often including payment details and transaction IDs.
Appointment Reminders. Service providers, medical offices, or businesses that schedule appointments often send reminders to clients or customers before the scheduled appointment time.
Subscription Confirmations. When a user subscribes to a newsletter or service, they receive a confirmation email to verify their subscription.
Account Activity Notifications. These emails alert users to any changes or activities related to their account, such as password changes, security updates, or account balance updates.
Order Shipment Tracking. Customers receive emails with tracking information to monitor the progress of their package during shipping.
Transactional emails are highly effective due to their high open and click-through rates. They typically contain essential information, are personalized, and are automated.
This ensures that recipients receive real-time updates and detailed information. This, in turn, enhances the user experience and builds trust between businesses and their customers.
Transactional emails must comply with legal requirements such as GDPR. This is crucial because they often contain personal or sensitive information.
SMS Marketing
Integrated SMS Marketing. Brevo extends beyond email, allowing businesses to reach their audience through SMS campaigns.
Automated SMS. Incorporate SMS messages into your marketing automation workflows for a holistic approach.
Deliverability and Compliance:
Deliverability Optimization. Brevo employs advanced deliverability tools and strategies to increase the chances of emails landing in the inbox rather than the spam folder.
Compliance with Regulations. Ensures compliance with GDPR and other email marketing regulations, reducing the risk of legal issues.
Brevo's extensive feature set caters to the diverse needs of email marketers, offering tools for campaign creation, automation, analytics, and compliance.
These features collectively empower businesses to create engaging and highly targeted email campaigns while maintaining a focus on email deliverability and legal adherence.
Who is Brevo for?
Brevo is an email marketing and automation platform that is flexible and adaptable to meet the needs of a wide range of users and businesses. With its ability to cater to various industry sectors and user personas, it is a valuable solution for anyone looking to streamline their email marketing and automation processes.
Small Businesses and Startups
Brevo's user-friendly interface and cost-effective pricing plans make it an ideal choice for small businesses and startups seeking to establish an online presence and connect with their target audience through effective email marketing. The platform's automation features can help streamline marketing efforts even with limited resources.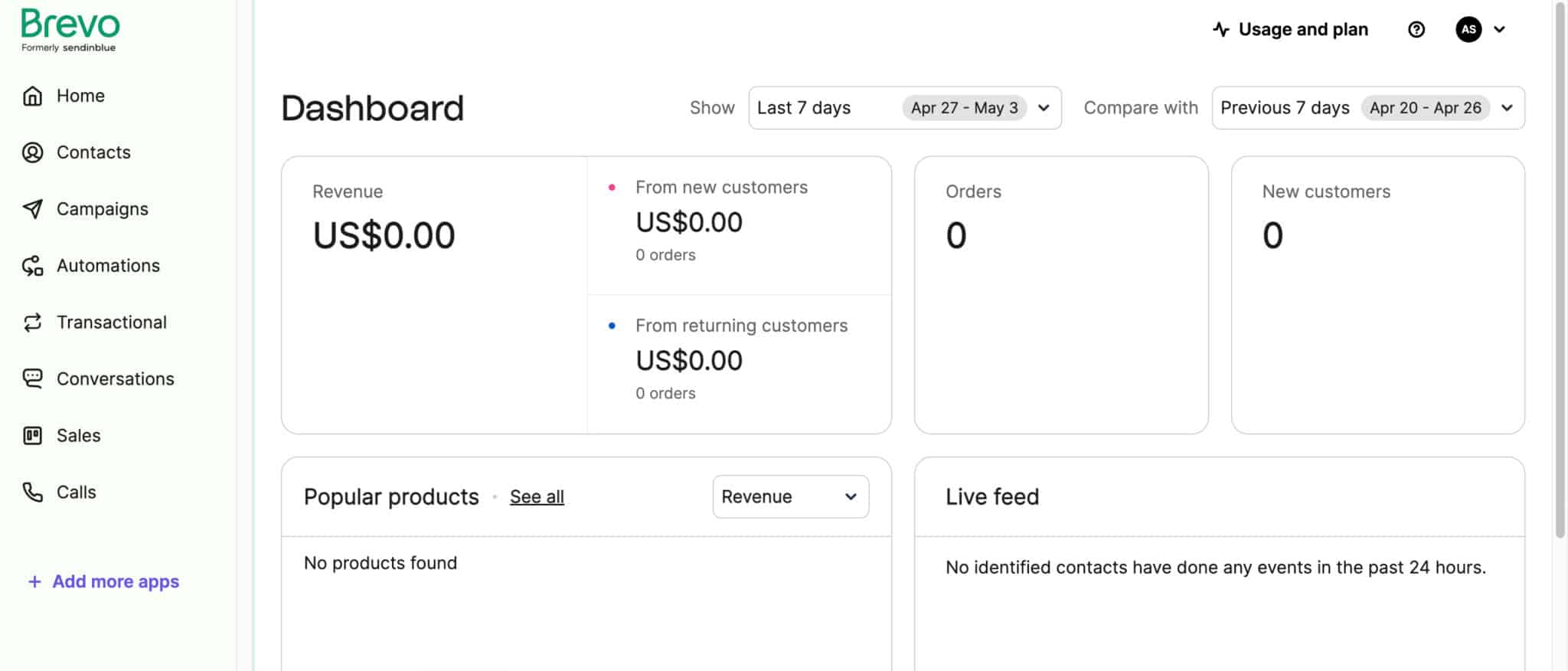 E-commerce Businesses
E-commerce businesses benefit from Brevo's ability to create and manage personalized email campaigns, including order confirmations, product recommendations, and cart abandonment emails. The platform's segmentation and analytics tools help optimize customer engagement and increase sales.
Digital Marketers and Agencies
Marketing professionals and agencies can leverage Brevo to manage email marketing campaigns for multiple clients. The platform's automation capabilities enable agencies to provide tailored, results-driven solutions for their clients while maintaining brand consistency.
Nonprofits and Charities
Brevo offers reduced pricing and features designed for the nonprofit sector, helping organizations effectively communicate with donors, supporters, and beneficiaries. The platform's automation can aid in fundraising efforts and engagement campaigns.
B2B Marketers
Businesses targeting other businesses can benefit from Brevo's segmentation and personalization features to nurture leads, maintain customer relationships, and send targeted content. Automation helps in lead scoring and qualifying prospects.
Content Creators and Bloggers
Individuals and organizations in the content creation industry can use Brevo to distribute newsletters, blog updates, and promotional content to their subscribers. The platform's analytics and A/B testing capabilities assist in optimizing content performance.
Local Businesses
Local businesses, such as restaurants, retail stores, and service providers, can effectively communicate with their local customer base through Brevo. Features like automated event invitations and location-based campaigns are especially valuable.
E-commerce Developers
Developers can integrate Brevo into their e-commerce platforms through its API and SMTP relay, ensuring seamless and reliable transactional email delivery.
Global Enterprises
Large enterprises find value in Brevo's scalability, advanced automation, and analytics, allowing them to run complex, data-driven email marketing campaigns across multiple departments and regions.
In summary, Brevo's adaptability and feature set make it an attractive option for a wide range of users, from individuals and startups to established businesses and organizations. Its focus on accessibility, customization, and affordability ensures that businesses across various industries can harness the power of email marketing to engage their audience effectively.
Pricing Plans for Brevo
Brevo offers various pricing plans tailored to meet the needs of different businesses.
There are plans designed for startups and small businesses that aim to launch their email marketing campaigns.
These plans range from basic to advanced and provide features like unlimited storage, advanced analytics, and unlimited users.
Brevo has plans categorized into Marketing, Conversations, and Sales, each of which has a free version. Additionally, there is a Transactional Email plan that comes for free.
The Marketing plan provides a Starter tier for $25 per month, a Business tier for $65 per month, and a BrevoPlus tier for large organizations with specific requirements.
Conversations and Sales plans have a free and a Pro tier. The Conversations Pro tier comes at $15 per month, and the Sales Pro tier costs $12 per month.
Pros of using Brevo
There are several pros to using Brevo for your email marketing.
User-Friendly Interface
Brevo offers an intuitive and user-friendly interface that simplifies the email marketing process. Its drag-and-drop email builder and pre-designed templates make email creation a breeze.
Affordability
Brevo's pricing plans are affordable for all businesses, without compromising essential features.
Automation Capabilities
Brevo's automation feature makes it easy to create email workflows that nurture leads, onboard customers, and re-engage inactive subscribers, saving time and increasing engagement.
Segmentation and Personalization
The platform enables businesses to segment their contact lists based on various criteria, facilitating targeted communication and personalized content for improved campaign performance.
Comprehensive Analytics
Brevo offers real-time tracking and detailed reporting, enabling data-driven decision-making through open rates, click-through rates, and other engagement metrics.
Transaction Email Capabilities
Brevo includes transactional email features, which are crucial for e-commerce and businesses needing to send order confirmations, receipts, and password resets with reliability.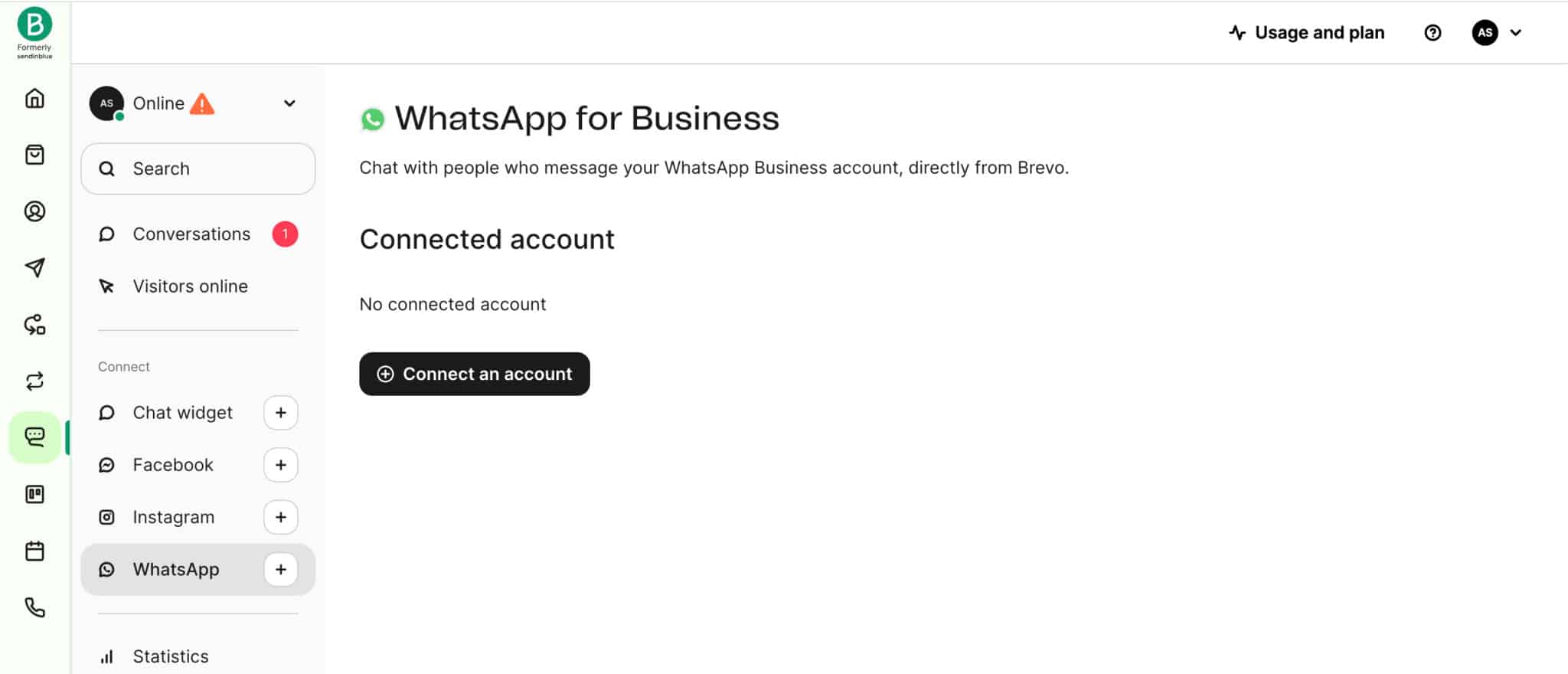 SMS Marketing Integration
In addition to email, Brevo offers integrated SMS marketing capabilities, providing businesses with a holistic approach to reaching and engaging their audience through multiple channels.
Deliverability and Compliance
Brevo prioritizes email deliverability, utilizing advanced tools and strategies to ensure emails reach inboxes while complying with GDPR regulations to mitigate legal risks.
Scalability
Brevo can easily scale to accommodate businesses of any size.
Global Reach
Brevo offers multilingual support and has a strong presence in various countries, making it a suitable choice for businesses with international customer bases.
Cons of using Brevo
While there are many pros to using Brevo, there are a couple of cons as well.
Pricing Structure
The platform offers affordable pricing plans, however, some small businesses may perceive them as relatively expensive compared to other email marketing platforms. This could pose a challenge for small businesses operating on tight budgets.
Limited Support for Multivariate Testing
Brevo's A/B testing capabilities are adequate for many users, but it may lack the advanced multivariate testing features that some marketers seek for more in-depth testing and optimization.
Limited Advanced Design Options
While the platform offers a user-friendly drag-and-drop email builder and pre-designed templates, it may not provide as much flexibility for users who require highly customized email designs or have more complex design needs.
Learning Curve for Advanced Features
Although Brevo's user interface is user-friendly, its more advanced features and automation workflows may pose a learning curve for users new to email marketing or marketing automation.
Automation Capabilities Need Improvement
Although Brevo offers automation features, some users have reported that these capabilities are not robust enough. This could be a drawback for businesses that rely heavily on automated email campaigns.
;TLDR
Brevo is an email marketing tool that's perfect for small businesses and startups.
It offers a wide range of features to help you reach a larger audience without breaking the bank. With Brevo, you can customize templates and automate your emails, making it easy to create beautiful emails and send them at the optimal time.
In addition to email marketing, Brevo also offers SMS marketing and WhatsApp campaigns, allowing you to connect with your audience through their phones and one of the most popular messaging apps.
They also have live chat and a chatbot feature to provide excellent customer support.
While Brevo's pricing plans are affordable, some small businesses may find them a bit higher than other platforms. Furthermore, if you're looking for a comprehensive marketing solution, the focus on email marketing may be limiting.
Some users have also reported that the automation capabilities could be improved.
Overall rating
4.5