Folders Plugin | Navigating Content Chaos with Ease
If you have been struggling to get your WordPress media library in order, the Folders plugin is the perfect solution for you. With its proven track record of success, this plugin has quickly become a popular choice among WordPress users who want to streamline their file organization process. Say goodbye to the chaos and hello to efficiency with Folders.
30 day money back gurantee!
In this post, we will discuss the history of Folders, why people use it, its features, how much it costs, and the pros and cons. So, if you're ready, let's dive into the Folders Plugin Review and see how WordPress Folders can help you take control of your media library and more.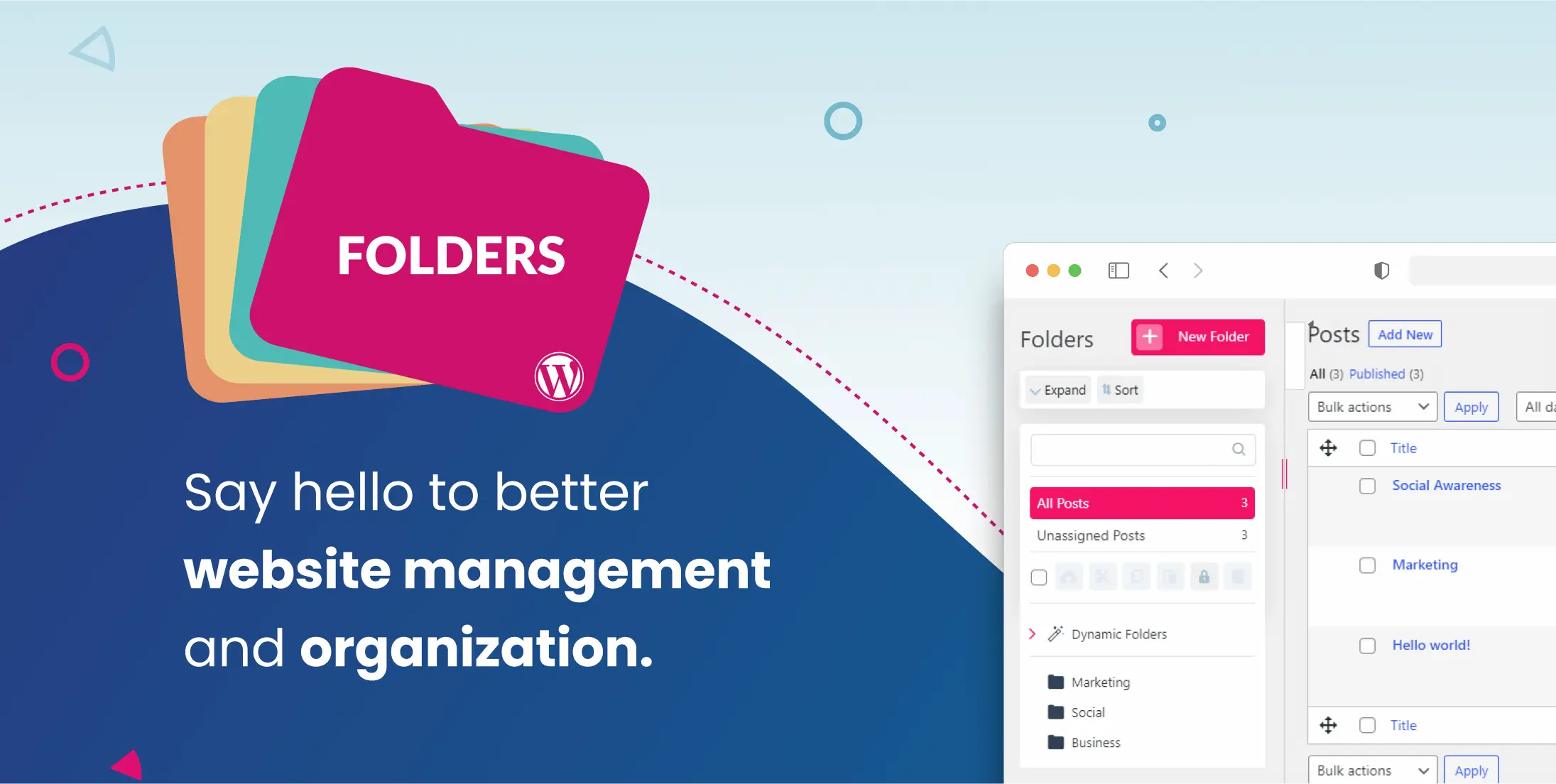 What is Folders?
Managing your media files, pages, and posts in WordPress is now simpler with Folders. This tool enables you to organize your content efficiently by creating folders. With Folders, you can filter your posts and files based on file types, author, date, and other criteria. You can even create subfolders as much as you need to make the content more organized.
Folders also allow you to manage your content with other plugins that support custom post types. It provides access management features to control who can access specific folders, ensuring the safety of your content.
Folders come with advanced media replacements, user access restrictions, bookmark, lock, and duplicate folder features. You can view metadata details from the Media Library hover, making it easier to locate the correct file without opening it. The Media Cleaner feature enables you to remove any unused media files, keeping your library clean and efficient.
You can also upload entire folders directly with all their content, making it quick and easy to organize your media library. If you prefer to sort your folders based on the date, you can do that too.
Folders offer customization options, allowing you to choose fonts, colors, and more. You can even download a folder and all its contents, saving you time and effort.
The History of Folders
WordPress Folders is a plugin designed to help users efficiently organize their media files, pages, and posts on their WordPress websites. Prior to the development of Folders, it was quite challenging to locate specific files or maintain proper order on WordPress sites.
The creators of Folders identified the need to enhance media files and content management on WordPress websites, leading to the development of this intuitive and user-friendly solution.
They took user feedback into consideration and continually made updates to improve the plugin. Folders has been downloaded over one million times, and today, it is considered one of the best plugins for organizing your media library.
Over time, Folders has evolved to meet the needs of WordPress users, and it has become an indispensable tool for many website owners.
Why People Use Folders
As your WordPress website grows, organizing your pages, posts, and media library can become overwhelming. But with Folders, you have a solution that keeps everything in order.
Folders help you create an organized system for storing all your files, making it easier to find what you need.
You can navigate your folders effortlessly and quickly locate the item you're looking for, saving you time and frustration.
Besides, Folders make it easy to group related pages or posts to manage and maintain your website efficiently.
You can update and organize your content with ease. Additionally, it's an excellent tool for organizing your media library. By sorting your images, videos, and other media files into folders based on category or theme, you can easily find and use the correct media files when needed.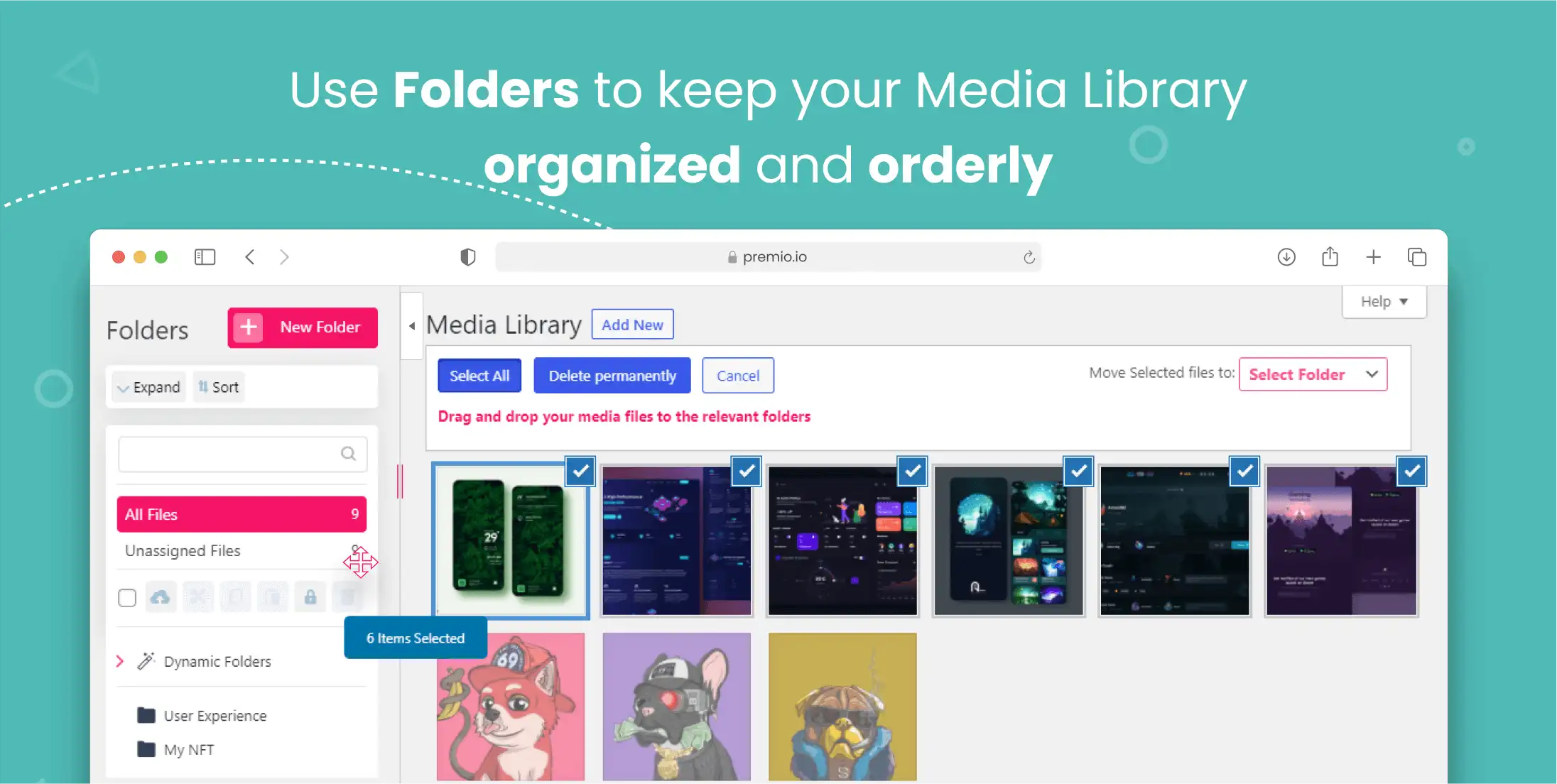 Features of Folders
Dynamic Folders
With the Dynamic Folders feature, you can now create folders automatically based on your WordPress taxonomy. This way, you can efficiently organize your media files, pages, and posts according to categories, tags, or any other custom taxonomy that you have established.
Replace Media Files
The Replace Media Files feature simplifies replacing media files without deleting and re-uploading them. It's convenient if you need to update an image or video on your website.
Bulk Organize Media Library Files
Another great feature is the Bulk Organize Media Library Files feature. It allows you to quickly move multiple media files to different folders, saving time and effort.
Downloading a Media Library Folder
Downloading an entire folder along with all its contents can be done easily with the Download Media Library Folder feature. This feature helps you collect all your media files in a single, organized folder on your computer with just a few clicks.
Uploading a Media Library Folder
Are you struggling with uploading a large number of folders and files to your WordPress media library? You can easily upload a folder structure from your computer with the "Upload a folder structure locally from your computer" feature. Simply choose the folder you want to upload, and Folders will do the rest by uploading the entire folder structure to your media library.
Custom Posts Support
With the Folders Plugin, you can now organize your custom post types into folders. This makes it easier to find and keep everything organized.
Import
If you have existing folders in other plugins or themes, you can easily import them into the Folders Plugin without having to start from scratch.
GDPR and Privacy
And don't worry about privacy and GDPR compliance. The Folders Plugin supports GDPR and Privacy, so you can rest easy knowing your data is secure.
Pricing for Folders
If you're looking for a comprehensive set of features for your WordPress website, WordPress Folders offers a free version that may suit your needs.
If you require additional features, you can upgrade to a Pro plan.
The Pro plan has three different tiers: Basic, Plus, and Agency. The Basic plan is designed for one website, while the Plus plan supports up to five websites. If you require more websites, the Agency plan supports 50 websites or more. Each plan can be purchased for one year, two years, or lifetime. The Basic plan is priced at $49 per year, while the Plus plan costs $109 per year. The Agency plan costs $179 per year for up to 50 websites.
All plans come with a 30-day money-back guarantee.
Pros of Using Folders
WordPress folders are a powerful tool for organizing your website, with many benefits.
Easy Organization
Organizing your WordPress pages, posts, and media library is made easier with Folders. It's like having separate folders for each subject in your school binder. You have the flexibility to create folders based on categories, tags, or any custom taxonomy you've set up. This feature helps you locate what you need in no time, saving you valuable time and effort.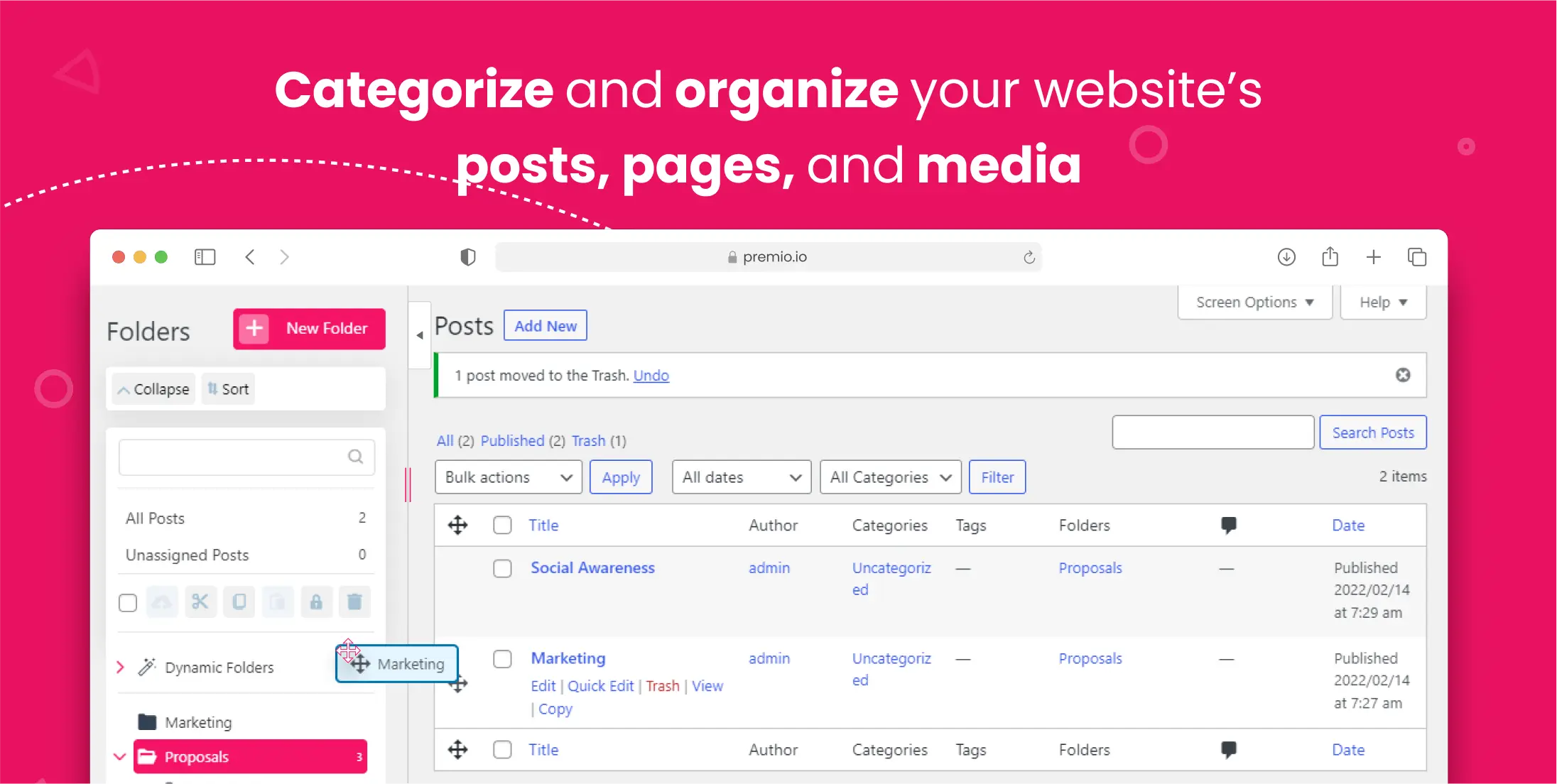 WordPress Pages and Posts Organization
Folders allows you to quickly group related pages or posts. Just like putting similar subjects in the same folder in your backpack, you can organize your pages and posts into folders based on their topics or themes. This makes it easier to update and maintain your website.
WordPress Media Library Organization
Organizing your media library into folders can greatly enhance its efficiency and tidiness. Rather than having all your media files in a jumbled mess, you can categorize and group them based on their theme or subject. This approach simplifies the process of locating and using the right media files when you need them.
Advanced Features
Folders offers dynamic media organization, bulk file management, and easy media replacement.
Cons of Using Folders
As with anything, there are also a few cons to using Folders in WordPress.
Limited Features for Free Version
One downside of Folders' free version is its limited features compared to the Pro version. To access all advanced features, upgrading to a paid plan is necessary.
Initial Setup and Configuration
While it's relatively easy to use once you have it set up, getting everything organized and structured may take time and effort.
Learning curve
It's worth noting that employing Folders to organize your WordPress media library, posts, and pages could be a bit challenging, particularly if you're not accustomed to managing and arranging files within WordPress. It may take some time to become proficient in using Folders efficiently, but it can be a valuable tool for keeping your content organized.
May Not Suit Your Needs
If your website has a small amount of content, you may find that Folders' advanced organization and filtering features are unnecessary. In such cases, a simpler organizational system or the default WordPress media library structure may suffice.
The ;TLDR
The Folders plugin is an excellent tool for organizing your WordPress media library and keeping your website tidy.
With Folders, you can create specific folders for your pages, posts, and media files, making it effortless to locate what you need. This plugin comes with advanced features such as dynamic folders, bulk organization, and the ability to replace media files with ease.
While the free version has limited features, upgrading to a paid plan unlocks all the advanced options. The pricing for the paid plans is reasonable, with options for a one-year, two-year, or lifetime subscription.
Using Folders requires a bit of initial setup, and it may take some time to get the hang of it, especially if you're new to organizing files in WordPress. However, once you have everything set up, it's smooth sailing.
Folders is a powerful tool that gives website owners control over their WordPress media library folders. It's a must-have for anyone looking to keep their content organized and efficient.
Overall rating
4.75