Paperbell | The Client Management Tool for Coaches
Paperbell is a revolutionary scheduling, billing, and project management tool designed specifically for coaching professionals. All in one place, customers can schedule their appointments, sign contracts, download digital downloads, make payments – both for payment plans, ongoing subscriptions, and one-time payments, and sign up for individual – including multi-session packages, or group coaching.
Free to try out with your first client! No credit card needed to get started
The History of Paperbell
Paperbell was founded by Laura Roeder, whose mission is to create more ease for entrepreneurs.
In 2014, she began a social media company, Meet Edgar, which has grown to a multi-million dollar business that now runs without her. She was later inspired, as a business coach herself, to create a tool that could create the same kind of ease specifically for coaches. She endured how much time was wasted calculating time zones and word-wrapping payment emails.
Just like MeetEdgar, she understood that software could take care of these types of problems.
Why People Use Paperbell
Paperbell is an all-in-one tool that handles scheduling, payments, contracts, and client management for your coaching business.
It is designed specifically for coaches and consultants.
If your company deals largely in one-on-one or small-group client meetings, this would be a great fit for you. Paperbell was not designed for freelancers, like designers or developers.
It is geared specifically toward online businesses.
Features of Paperbell
Appointment Scheduling
As someone booking a coaching session with you, I can quickly see when my favorite time slots are free. This helps us both determine what times work best for our schedules.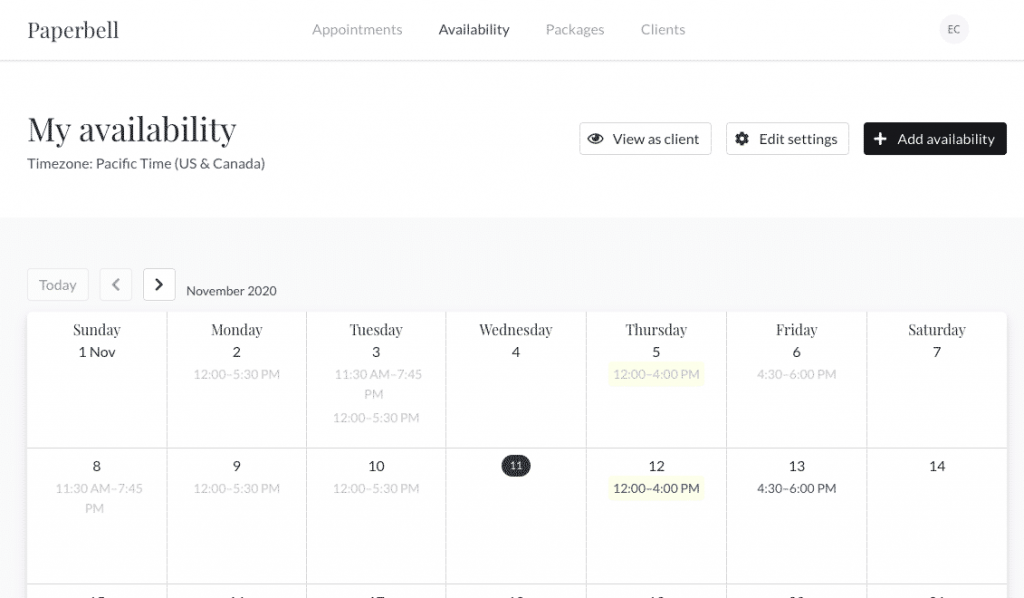 The Paperbell system takes the place of schedulers like Calendly or Acuity. It is like scheduling-specific tools, but also includes features such as surveys, contracts, and payments. In addition, Paperbell allows you to:
Set different availability for different offerings
Create A/B week schedules
Automatically create a buffer between appointments
Limit how far in advance clients can schedule
Automatically show availability in your client's local time zone
Limit how last-minute clients can book with you
Sync with google calendar
Online checkout
Using a payment processor, Paperbell offers checkout functionality, allowing clients to buy your packages and services online. That said, you will still need a PayPal or Stripe account to link to Paperbell.
Paperbell shines in the types of products it is able to offer. You can create free sessions, subscriptions, and multi-session packages, as well as sell digital downloads, group coaching, or online classes. You can also have these services bundled, and/or set up a payment plan for your clients.
Landing Pages
Paperbell creates customizable landing pages for each of your services. Landing pages have text and images. However, it's in a standard format with standard fonts that are not customizable. In addition, you can simply link clients to your booking page if you'd prefer to not have them go through the website.
Video Call Integration
Paperbell integrates a link to your video calling platform of choice into the appointment invitation for you and your client. You can use any platform including Zoom, Skype, Google Meet, any other video conferencing tool, or even a conference call line.
Client Management
Paperbell keeps a record of each client, with all previous purchases and appointments included. As an additional feature, this app allows you to create notes about the client, and track anything that may be important.
Automated Follow-Up & Reminder Emails
Create a series of customized emails to send based on your customer's specific needs, including both pre and post appointment information. With this feature, additional content can be delivered, resources and material can be shared, and a general sense of trust and closeness with your clients can be felt.
Contracts
Paperbell supports paperless contract signing (i.e. electronic signatures). This allows you to upload your contract and put it right into your client's checkout flow. Paperbell then creates a copy of the completed contract that can be accessed by both you and your client.
Group Coaching
Paperbell lets you schedule a group coaching call, which means several clients will be on the same call. You can also use this option to sell live online classes or workshops. If you would like to set an attendance limit, that option is available and a cut-off date can be created as well.
Client Questionnaires
Ask your clients anything you like with client questionnaires. The survey is presented when clients buy a package, and their answers are saved for both you and your client to view anytime.
Multi-Session Packages
With the purchase of a multiple-session package, clients can reserve and pay for sessions up-front (which can be offered at a discounted rate) or pay on a monthly plan.
Coupon Codes
Generate custom codes that can be used on any package.
Set-Up Fees
Paperbell lets you include an additional cost for set-up on your first payment for any package.
A Sneak Peek Inside
Paperbell's integrated checkout and onboarding experience ensure that your clients' payment process is straightforward and simple. They schedule, pay, sign their contract and answer any survey questions in one clean workflow.
They also have their own portal, which allows them to do everything they need on it, such as schedule appointments, download materials, review the contract, and sign up for more sessions.
You can see it in action here.
Integrating With Other Platforms
Paperbell can be integrated with either Stripe or PayPal for payment processing. Payment plans and subscription agreements only work with Stripe.
Connect Paperbell to Zoom, Skype, Google Meet, any other video conference tool, or even to a conference call line.
Automatically upload your client data to tools like ConvertKit, Mailchimp, ActiveCampaign, or Flodesk, by integrating with Zapier.
In order to complete your contract signings, Paperbell partners with HelloSign. You don't need a HelloSign account, Paperbell includes it with your subscription.
Paperbell Pricing
To use Paperbell, you can choose between an annual or monthly billing plan. The monthly plan is $50 a month. If you want to pay annually, you save $10 per month at $480 for the year. There are no hidden fees or add-ons.
The Pros of Paperbell
It allows you to create group coaching appointments, where multiple clients are on the same call.
You have access to unlimited everything.
Moneyback guarantee within 30 days of signing up.
An elegant, client-centered experience.
Full client information is available in seconds.
The Cons of Paperbell
It does not have functionality for indicating appointment meeting locations.
It does not allow weekly or bi-weekly payment plan options.
Not able to use a white-labeled domain.
You can not create surveys/questionnaires for every appointment. Only the initial setup and appointment scheduling.
Conclusion
Paperbell is still a fairly new tool and they are very open to feedback for growth. This means that there is a lot of potential.
I love that Paperbell is geared specifically toward coaches. It doesn't have all the extras offered by other CRMS for coaches but has greater ease of use. It is worth nothing that it is priced higher than other tools that are out there.
For some the streamlined, ease of use makes the added price worth it. For others, it could be a potential drawback.
As with all things, each business owner has to decide what is important to them and make their decision accordingly. But Paperbell is a tool that I would recommend to clients without a second thought.
Overall rating
4.25/5