I Use Streamyard For Recording My Podcast & Here's Why… + How To Use It
StreamYard is a cloud web-based live streaming studio with the ability to invite remote guests, share your computer screen,  and so much more. StreamYard facilitates video streaming directly to Facebook, YouTube, Periscope (Twitter), and LinkedIn Live. This how to use the tool that I use for recording Transparency + Truth.
The links in this post may be affiliate links.  That means that if you click them and make a purchase, this site makes a commission.  It will have no impact on the price you pay or the experience of your purchase.
In this review of Streamyard, I will share the features, details on how to use it, and why I started using Streamyard for recording my podcast – Transparency + Truth.
StreamYard is a cloud web-based live streaming studio with the ability to invite remote guests, share your computer screen, and so much more. StreamYard facilitates video streaming directly to Facebook, YouTube, Periscope (Twitter), and LinkedIn Live.
This post contains affiliate links. If you sign up or make a purchase, I get a commission. It does impact the price you pay or service that you receive at all.
Features of Streamyard
Run live stream broadcasts across all major social media networks
Streamyard Live Streaming allows you to create a broadcast and stream to any target that supports Real-Time Messaging Protocol (RTMP). Whether it is via an embedded player on your own website or third-party apps.
What is RMTP?
Real-Time Messaging Protocol (RTMP) is a tool for streaming audio, video, and data over the Internet.
To increase the amount of data that can be smoothly transmitted, streams are split into smaller parts. This means that video and audio are delivered on separate channels at the same time.
Invite up to 10 (6 on the free plan) remote guests to join the broadcast and participate in the live stream
Inviting guests is simple and easy and doesn't require guests to download any software to join in. You can even make things more dynamic with the ability to brief guests in your studio before going live and swapping guests in and out if needed.
Stream to multiple platforms simultaneously
You can easily simulcast to up to 8 destinations on the platforms where your community exists on the paid pricing plan. This makes it easy for viewers to watch and engage.
Stream to Facebook, YouTube, LinkedIn, Periscope, Twitch, and custom RTMP outputs.
You can even stream to more than on a Facebook page or YouTube channel at the same time!
Some additional features that make Streamyard customizable and makes you look like the ultimate professional:
Manage audience engagement with comment moderation and the ability to add comments on screen.
Add audience call-to-actions which can be added live to the stream
Brand broadcasts by configuring colors and uploading images, GIFs, and even videos.
Streamyard Pricing
StreamYard starts at $20 a month with annual plan discount pricing. A free plan is also offered.
The features of the Streamyard service depend on your chosen plan.
The free plan allows you to share your screen, use branded banners, get and share on-screen comments.
You also get features like adding brand colors, a green screen, and streaming anywhere. The downside is that there will be a Streamyard logo displays on your videos.
You can remove the Streamyard branding by upgrading to the basic plan, and also add your own logo in place of it. In addition, you get increased recording time.
How To Use Streamyard
Sign up
Start by signing up for an account. You can do that by going to Streamyard.com.
As soon as you signed up by putting your email, StreamYard will send you a six-digit code to your email which will allow you to proceed to the next step.
Add a destination
To add a destination, click on the platform you are interested in sharing your live broadcast. A user must authorize StreamYard to have access to such a destination.
Users wanting to use Facebook can choose to live stream to their profile, group, page, or both (profile, group, and page). This also applies to LinkedIn users where they can choose to live stream to their profile, page, or a combination of both.
Broadcast
After connecting your chosen destination with StreamYard, the next thing is to create a broadcast. To do so, you will need to go to the broadcast tab and click on the Create Broadcast button.
A box will pop up when you click on the Create Broadcast button with additional options. These options include clicking on the existing connected destination(s), adding more destination(s), and even recording your activity without live streaming.
Then you will need to provide a title and description for your stream.
If you like to pre-plan and set up things in advance, you have the option to schedule the broadcast for later so that it is ready to go and you can get a link to send to guests ahead of time.
After completing all of that, you will need to save the changes by clicking the Create Broadcast button on the Enter Broadcast Studio button.
When you click the Create Broadcast button, you will be asked to check your camera and mic before entering into the Broadcast Studio.
The Streamyard Broadcast Studio
A. Display
This is what viewers of your broadcast will see. The buttons below the display allow you to select different screen display settings.
B. Title
This is the name you gave the broadcast in the settings.
C. Participants
This is where all the broadcast participants will show up including the host. It is worth noting that even you as the host are not part of the broadcast until you add yourself to the stream. Once the host clicks on a participant's display video, an Add to stream button will appear.
D. Mute
The mute function is to allow participants to mute themselves. This is helpful when a participant is not speaking to minimize the background noise coming from their stream.
For someone to enable the mute function, just click on the mic/mute button and it will automatically cancel and mute the guest's mic. When speaking the guest will also need to unmute the mic so that their voice will be able to be heard again. This can be done by clicking the mic/mute button again.
E. Stop Cam
When a user clicks on Stop Cam it blacks out the camera of the user so that a black screen will replace the guests display video.
F. Cam/Mic
The Cam/Mic setting consists of five different sub-settings: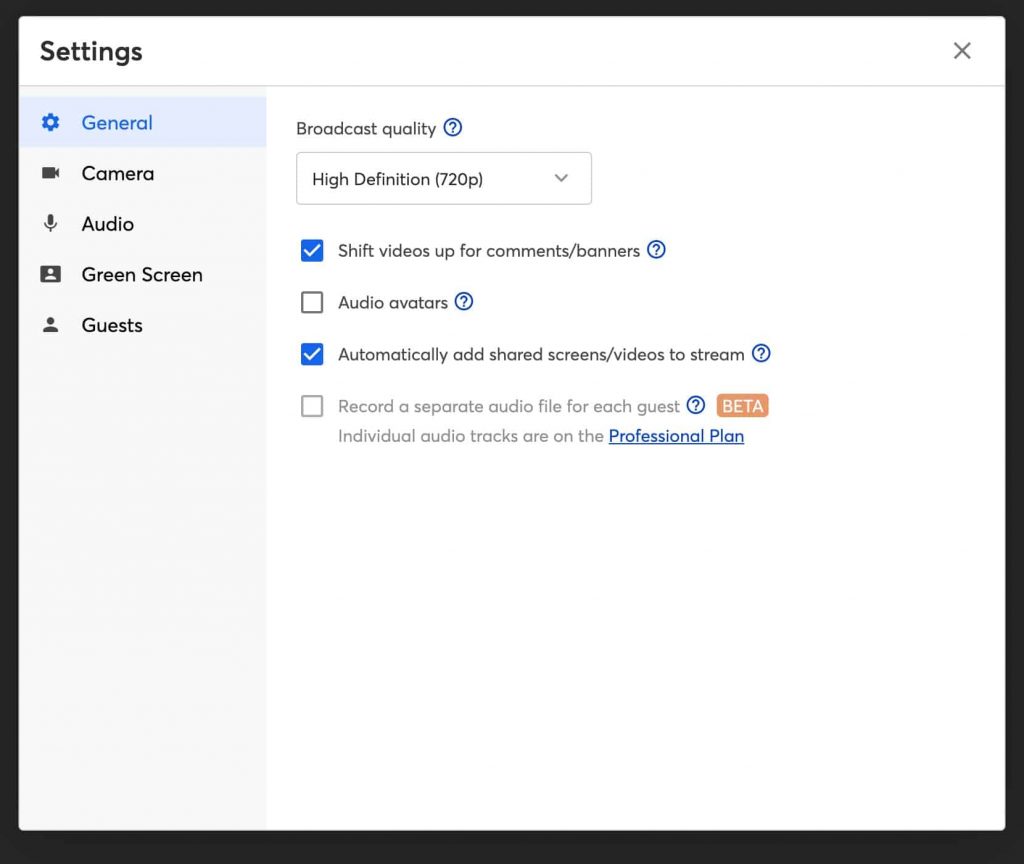 General settings – the user can control the quality of the broadcast, enable audio avatars, and adjust the position of the banners and where comments appear.
Camera Settings – allows a user to use an inbuilt camera or an external webcam. And allows you to see what your video and quality will appear like to viewers. In addition, the setting also gives the ability to select the camera resolution (high definition, standard definition or low definition.
Audio settings – allows users to test speakers and mic, and a few other audio settings to control the quality of the streams audio.
Green Screen settings – enables users to use, choose and upload virtual backgrounds.
Guest settings – allows a host to enable guests tobe able to see viewers comments, play a sound when a guest enters the stream, and the ability to force guest to authenticate with YouTube or Facebook.
G. Screen Share
This setting allows a user to share a screen when presenting – an application window or a specific tab.
H. Invite
Allows a host to invite additional guests to enter the broadcast studio through either a link or an email.
I. Leave Studio
This is where the host or guests can click and exit from the broadcast studio.
J. Chat
This is where your viewer's comments display and you can respond within the broadcast studio.
K. Comments
The comment function allows you to display live viewer comments on the broadcast screen while streaming.
L. Banners
This feature allows the host to display talking points and call to action.
M. Brand
Allows a host to customize the look of the display screen. The host can change the look and feel including the color, theme, logo, and background to fit with their brand. It is worth noting that this feature is for premium subscribers.
N. Private Chat
This is a space where the host can chat privately with the broadcast participants.
O. Settings
This is another place that brings up the same settings as section F.
P. Edit Original Settings
This gives a dialogue box that allows you to edit the stream locations, title, and description.
Q. Edit Stream Settings
Prompts a dialogue box that allows you to see/edit broadcast settings.
R. Go Live/Record
Is the button where the host will click to record the broadcast. But, if the host sets the stream to go live, the button will display Go Live
Conclusion
Overall Streamyard Live Streaming is a useful and affordable tool for content creators and businesses looking to stream live video as part of their community building and marketing strategies.
Reviews of Other Tools I Use That You May Find Of Interest
Content Categories
Business
Skills & Tools
Small Business
Systems
Popular posts